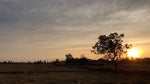 Today is Earth Day. It is humbling, especially now, being at home, amid a global pandemic to see how we can better protect the Earth when we are its biggest force of destruction. In this time of isolation, the Earth has had time to heal and it gives us a chance to consider how we can better find balance in how we live with the environment.

In 2015 we went to Isan for the first time, it felt like we entered into a film by Apichatpong Weerasethakul, a retro-future world surrounded by the land, rice paddies, grazing buffaloes, jungles and communities of farmers and artisans that form the very backbone of Thailand. These early trips helped us to formulate what we want to create, and also how we want to live. We asked ourselves how can we make clothes that enable us to go back to the land, to learn from the keepers of traditional knowledge and how to help to keep this knowledge alive for the future. It has been forming a while, a manifesto, that guides us and truly defines what our mission and commitment is vis-a-vis the planet, the community and culture.

Our mission is to create clothing that merges traditional know-how and knowledge that has been passed on for generations with the expectations and aesthetics of contemporary life. We work with natural dyes derived from indigo, tree bark, leaves, berries and lac (tree mites that live in trees) working with what is in season. We work with and learn from artisans - mostly grandmas (Indigo Grandmas!), aunties and first generation of artisans in villages in the Northeast of Thailand. They are the keepers of traditional and indigenous knowledge and it is our mission to help pass on the knowledge so that it can spread beyond their villages not only creating an alternative source of income but so that knowledge is preserved for next generations. We work with natural and hand-made fibres that are drawn from the land, it is a local and collaborative process. The knowledge and resources that we draw from leads us directly back to the land, we aspire to work with nature, finding harmony, understanding that the most advanced textiles and innovations mimic what is found in nature. We believe in the power of plants to be able to heal and to offer us protection. To the Earth we are grateful everyday.

Pushing a month of isolation, we can see what the positive impacts of humans being at home has done - the air is cleaner, the animals have come to play - the Earth is healing. Now we just have to figure the role that we play together. Just some thoughts for today.
HAPPY EARTH DAY (EVERYDAY)!