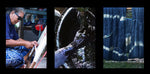 The indigo plant is a natural born-traveller, its flowering pods pop and the seeds are carried to new places (humans are also responsible for its spread); of the 200 or so species that exist in the world, all can trace their ancestry back to Africa. The one that we use is
Indigofera Tinctoria
found in SE Asia and South Asia.
Indigo dye is made from the plant,
the process
 of deriving the dye and creating the reaction that turns things blue is knowledge passed on for millennia. However, not all indigo dye is natural, there is synthetic indigo dye that resembles the molecular structure of Indigotin, the blue derived from indigo plants but this version does not have the virtues named above. This type of indigo also does not need farmers and artisans to grow plants and pass on knowledge. Not all indigo is created equal and it is best to understand that with the natural stuff, it fades, it is uneven, and it is this that makes it unique harmony of nature and something human-made.  
100% NATURAL SAKON NAKHON INDIGO IS A LIVING DYE FROM THE NORTHEAST OF THAILAND.