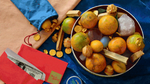 Gong Xi Fa Cai!

Chinese New Year has always been about family for me. My parents came to NYC in the 70s from Taiwan; my siblings and I are first generation Americans. We still have strong roots in Taiwan and also in Thailand where some of my aunts and uncles settled decades ago. To celebrate the new lunar year, our family gets together, finding each other wherever we are and everything stops for celebrations. Celebration is eating a lot of dumplings and noodles, having lots of round fruits around (oranges), eating CNY cake and the passing and receiving of Hong Baos, red envelopes. It's also about getting things in order, placing crystals and symbols, burning incense to welcome good spirits and the new year. This is the year of the metal golden rat, a very good year apparently.

Gong Xi Fa Cai also means "Get rich" - we believe that our kind and generous ancestors will help us to do this.

Happy Chinese New Year!
Not only do we get our worldly affairs in order so the rat can bring us luck, but it is also when we honor our ancestors whose spirits come to visit over this period. We do so by burning paper replicas of all their worldly desires for the after-life (including paper $$$), to make sure that they are well supplied for the year to come. We also offer them a feast fit for the gods.

It is perhaps the memories of our loved ones that keep these rituals alive?