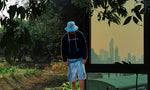 2 weeks into 2020 and that 20/20 Vision is clear - back to the lab with razor sharp focus - figure out how the power of plants and nature can be truly harmonious with what we do.

At the end of 2019 we started working with a new village of master dyers and artisans. They taught us how to dye better through their system of waste water management and meticulous attention to detail, the blue is more brilliant and other colors too (to drop later this year). This journey has taught us that there must be constant evolution and that there is always an alternative, we just have to find it.

With natural disasters causing insurmountable damage and systems as we know them failing, calamity is all around us and has become our status quo. Survival depends on change and coming together to build communities, at all different scales. For us, 2020 will be a year of collaborations and going places we have not before. 2020 we're ready.

Sending love.