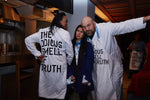 Back in March in Hong Kong during Art Basel, we collaborated with our friends and "Bastard Brothers" of the art and culinary world, Rirkrit Tiravanija and ntto Melasniemi on creating their aprons and chef's coats for their "Bastard Dinner" presented by The Standard Hotels at Potato Head Hong Kong. This was to preview their recipes from the Bastard Cookbook, think nordic Khao Soi and reindeer Nam Tok, recipes from the years that the friends have been cooking together all over the world.

The Bastard Cookbook launches tomorrow June 1st in NYC at Gavin Brown's enterprise!

We can't tell you how much we've learnt from Rirkrit over the years and a few months later are still dreaming about that night where the Bastard Brothers fed us their bastard cooking. And wondering when the next time will be ...

The Aprons and Coats are available for pre-order and we recommend hitting up Idea Books for copies of the cookbook for yourself and to give away to your friends as there is no better dinner conversation than OMG where did that reindeer come from!?

Indigo and sticky rice resist dyeing

Understanding that chefs wear different kinds of aprons to differentiate themselves in the kitchen and that Antto normally wears a stripy one we embarked upon an experiment to create the stripes from sticky rice.

We paint the sticky rice paste on the apron, we let it harden in the sun and dye the apron in our indigo vat. The sticky rice melts away and voila - Antto's apron appears.

For sticky rice resist dyeing tutorial please follow @philiphuangnyc

#philiphuangnyc #bastardcookbook #rirkrittiravanija #anttomelasniemi