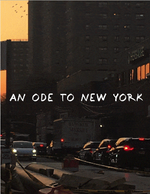 Last week our children unanimously decided to put on their I LOVE NYC t-shirts and make a case for why summer in New York City is the best and they want to return. They each prepared a long list of reasons by they love New York and why we had to book flights back. The reality of the pandemic and the disruption it has caused, without talking about the pain and suffering that it has plunged the world into can sometimes be lost on small children, perhaps it is better this way. Home-schooling, social distancing, wearing masks is a reality and as "Generation Alpha", they are not phased by conversations with Siri and seeing their teachers and friends on a screen, yet we know they miss playing with their friends, they also miss their Bushwick home and want to go back to Summer Camp. Their case reminded us of the life we used to live not so long ago where going back and forth between the two cities that we call home was possible, we too miss NYC.

Ultimately, what we miss the most is our friends, it was always our friends who made the city what it was for us. Of course, all the small little details that add up to make a whole when living in a city is the other. The smells, the sounds, the sky whether it be a deep striking blue, a white sun or a fiery sunset against the skyline, the speed, we miss it. Then there is walking just soaking it all in, bumping into a friend or an acquaintance, making a new one at the least expected moments - the chaos and the moments of serenity one and the same – the electrifying energy that pulsates through the city all the time. It is magical.
 
Our friend, Waris Ahluwalia, has always been a big part of NYC for us, cooking dinner together was a ritual and leisurely walks without a set destination something that we did. Last fall, Philip and Waris spent a day and and a night at our Bushwick "lab" on our rooftop dyeing t-shirts, it was a warm day for the fall and a particularly balmy evening, perfect for a dyeing session using Waris' tea blends and our indigo that would finish well after sunset. The t-shirts were for Waris' HOUSE OF WARIS Botanicals Teahouse in Chelsea, this year were going to make more t-shirts in Thailand when our world was hit by COVID-19. Together, we decided to devote our resources to making masks instead as that is what we need right now. For each mask sold, we will donate another mask to The Bowery Mission. More about the masks and how you can support below. 
 
We hope that one day soon, we will be able to return with our kids and we can hug our friends again and marvel at the everyday little things that makes the city so special. We know that NYC will make it, resilience is at her core, and together we will come out stronger when the days are brighter. Thank you Waris for reminding us that Love Conquers All. 
 
Sending love to our friends in NYC. We shall see you soon. 
 
- Chomwan and Philip
LOVE CONQUERS ALL

 

One fall afternoon in 2019, I made my way to meet Philip Huang on a rooftop in Bushwick, Brooklyn. Our mission for the day- make uniforms for our tea house that was to open in a few weeks. We used natural indigo and tea as dyes to make the beautiful tie-dye tshirts. This year we were going to make more shirts in Thailand when our world was hit with the pandemic. Together, we decided to turn our attention and resources to making masks. Masks that would carry a message of hope and unity in these dark days. Bring light to dark corners. Love Conquers All. - Waris Ahluwalia
HOUSE OF WARIS BOTANICALS X PHILIP HUANG
TIE-DYED NATURAL INDIGO MASKS 


Each mask is hand-made and one-of-a-kind. 

Each mask is assembled with 3 layers of fabric:

The outer layer: Philip Huang signature 100% cotton-twill hand-dyed with natural Sakon Nakhon Indigo, it is then silk screened by hand with "LOVE CONQUERS ALL", House of Waris' defining philosophy. 

Invisible middle layer: Fine anti-bacterial sweat-wicking fabric

Inner layer that touches the face: 100% cotton gauze hand-dyed in indigo. 
 
A hidden metal wire lets the mask mould to the face to provide comfort and further protection, as well as to prevent fogging of glasses. Black elastic bands on both sides go around the ears. 

 Natural indigo is anti-bacterial. 

FOR EACH MASK SOLD, WE WILL DONATE ONE MASK TO
THE BOWERY MISSION

The Bowery Mission has served New Yorkers experiencing homelessness and hunger since the 1870s. 

"We are on a mission to rebuild hope and love well" - The Bowery Mission 
 
Philip and Waris at the Philip Huang Isan Dreams Presentation in NYC, 2017. Photo by Neil Rasmus/BFA
ABOUT WARIS 
Waris Ahluwalia, actor & designer, is driven by a deep and abiding desire to create stories, products and experiences that captivate, transport, and shift perception. In 2007, he founded House of Waris- a company dedicated to exploring design through craftsmanship. In the Fall of 2016, the Mayor of New York City proclaimed October 19th as Waris Ahluwalia Day for his work in spreading tolerance and inclusivity through his creative and social impact endeavors. 
HOUSE of WARIS Botanicals
 is a further extension of Waris' ongoing commitment to creating a more thoughtful way of living.